Abundance Spray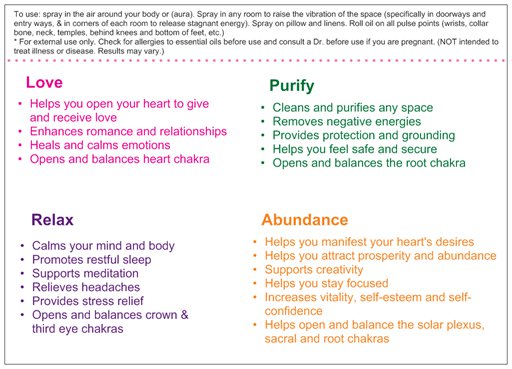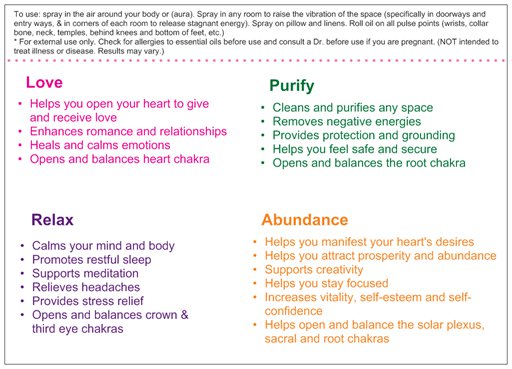 Abundance Spray
Use this spray to manifest your heart's desires.
This spray will help you focus on what you do have, not what you are lacking
Abundance can come in many forms. This abundance formula will raise your vibration and help put you in alignment with what you are seeking
It can help balance your Root, Sacral and Solar Plexus Chakras
It's made with citrine crystals (known as the "money stone") and combined with therapeutic essential oils of frankincense, orange, cinnamon, ginger, & patchouli. Each crystal and oil was carefully and intentionally selected to help you manifest abundance.
Use Abundance Spray on everything from your wallet or checkbook cover, to your vision board, or materials for work, etc. You can mist it around your body each day, or when beginning a creative project to give you an uplifting energy.
Andrea's aromas are natural remedies designed to support you on your journey to restore peace and harmony in your life. They are powerful blends for use in cleansing & raising your vibration, to support meditation, or to promote positive relationships and restful sleep. They can be used as a body mist or room energizer.
I initially started using crystal elixirs and flower essences to lift my energy during the day and to help me sleep at night. I also use them in my Reiki healing room before and after clients arrive.
They are a unique blend of crystal gem elixirs, flower water, therapeutic grade essential oils, and crystal gem chips. Each ingredient is carefully and intentionally combined to create a powerful healing and cleansing spray.
Aroma sprays are a wonderful way of channeling the natural energies in our environment. They are vibrational liquids that hold the energy of flowers, plants and crystals. The vibrational energy of the essences promote overall health and wellbeing.
Each spray is personally formulated by Andrea, a Usui Reiki Master/Teacher and certified Crystal Healer. She makes each spray by hand, using natural essential oils, crystals and floral water.
Andrea also infuses each spray with the highest Lightarian Reiki Healing energies and connects with Angels, Archangels and Ascended masters when making them.
The vibrational frequencies of the crystals and flowers permeate the water imbuing it with their vibrational energy. Water is highly programmable and capable of holding memory of the qualities of the source.
* Safety Precautions: FOR EXTERNAL USE ONLY. Keep out of the reach of children and away from eyes. These are highly concentrated sprays. Consult your doctor before use if you are pregnant or may be allergic to the oils or flowers. Be sure to educate yourself on the use of essential oils before using. By reading and purchasing this listing, you release Andrea Frasier, LLC from any liability arising out of use of this product.
I hope you enjoy these one-of-a-kind aroma sprays. They were hand-made with love to enhance your positive energy.